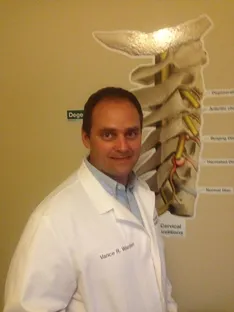 Vance Ray Warden, RN-BSN, NP-C, DC

Dr. Vance Warden is originally from Hurley, MS and has lived in Agricola, MS since returning from chiropractic school. He attended Life University where he earned a Doctor of Chiropractic degree in 1999. Dr. Warden first started working in Mobile, Alabama where he worked side by side with medical doctors, physical therapists, and other chiropractors in a personal injury practice. At this office he worked three years and gained tremendous amounts of valuable experience in the area of car wreck victims. After leaving the Mobile practice, Dr. Warden opened up a family practice in Hurley, MS in 2002 and then Wade, MS in 2007 where he presently works.

In 2010 Dr. Warden graduated from Hardin-Simmons University where he received the degree Bachelor of Science in Nursing. He then attended Samford University in Birmingham, Alabama and received his Masters Degree as a Family Nurse Practitioner in December 2012.